Facials
Our unique approach to facial treatments allows your therapist to provide a treatment that is prescribed exclusively for you.
Skin Scanner
So you think your skin is great? Seventh Heaven has a new way of looking at your skin. Skin Scope helps us tell you what is happening under the epidural layers of your skin, whether your skin is normal and healthy or dehydrated and lacking in moisture. This skin scanner will determine the perfect facial & skin care regime, designed especially for you. (A skin scope consultation is included with all Seventh Heaven facials).
Environ Facials
Treatments From Environ
Active Vitamin Treatment (3 areas) 1 hour €80
Advanced Active Vitamin Treatment (10 areas) 1.5 hour €90-110
Packed with nourishing, anti-ageing ingredients, the Active Vitamin Treatment will leave your skin looking radiant and dewy. The freshest, most active forms of citamin A, C and anti-oxidants are driven deep into the lower layers of the skin using soundwaves and small electrical pulses. This scientific approach stimulates Collagen to soften lines and improve elasticity, increase hydration and boost radiance. The Active Vitamin Treatment is suitable for all skin types and is particularly effective at addressing sun-damage, pigmentation, premature ageing, dryness, uneven skin tone and scarring with measurable differences after just one session.
Collagen Power Facial 1 hour €80 1.5 hour €90-110
This peptide-packed facial helps to boost collagen, soften fine lines and tighten lax skin, resulting in a more youthful appearance. Ideal for targeting mature or photo-damaged complexions.
The treatment uses gentle soundwaves to drive a special nutrientpacked serum deep into the lower layers of the skin. The formula contains a unique combination of three peptide complexes* which work in synergy to give skin a plumper, more radiant appearance.
The Frown Treatment 45 minutes €95
This highly effective treatment uses a special penta-peptide serum to target frown lines and achieve dramatic results. The unique combination of active ingredients is driven deep into the skin to soften lines and reduce muscle tension in the forehead helping to prevent new lines forming. The treatment targets the same chemical complexes as injectables without the associated risks.
HydraBoost Treatment 1 hour €85
The perfect antidote to dry, lacklustre skin, this intensive treatment deeply hydrates while plumping and firming the skin. Based on Hyaluronic Acid, which holds 1000 times its own weight in water, it helps to reduce fine lines caused by dehydration and increase the plumpness of the dermis, resulting in moisturised, glowing skin.
Precision Treatment 30 minutes €60
This time effective treatment targets specific areas of concern using unique skin care techniques that ensure effective results. This treatment is perfect for when your time is limited.
Purifying Treatment 30 minutes €60
Created to purify micro-exfoliate and re-hydrate your skin, this particular treatment assists with the treatment of acne, scarring and deep skin congestion. The combination of scientifically advanced products and techniques revives and refreshes your skin, leaving your skin feeling like new.
Image Skincare
Level I Treatments
Ormedic Lift – 45 minutes / €65
A papaya, pineapple, pumpkin and mango infused blend of organic and medically effective ingredients designed to re-balance tired, stressed and dull-looking skin. This non-chemical peel naturally re-balances, regenerates, restores and soothes your skin with organic ingredients.
Signature FaceLift – 30 minutes – €75 [Peel consultation needed]
This revolutionary treatment performed in four layers will change the image of your skin in just one application. Quench your skin with high doses of the most sophisticated forms of Vitamin C for extreme rejuvenation. Glycolic acid and gentle but highly active enzymes speed up cellular turnover to brighten, tighten and lighten your skin in just one treatment.
Lightening Lift – 30 minutes – €75 [Peel consultation needed]
Balance your complexion with this mega-lightening treatment that gently blends lactic acid and a cocktail of lightening and brightening agents to reduce sun spots, brown spots and the redness caused by Rosacea. Receive silky smooth & supple skin with a noticeable healthy glow.
Wrinkle Lift – 30 minutes €75 [Peel consultation needed]
This ultra-resurfacing glycolic and retinol treatment exfoliates dead surface skin cells and improves circulation leaving skin firmer and healthier. Visibly reduces the appearance of fine lines.
Acne Lift – 30 minutes €75 [Peel consultation needed]
A beta & alpha-hydroxy acid cocktail. This safe and outstanding resurfacing modality has a dual benefit. It reduces and treats all kinds of acne while resurfacing and smoothing the skin after just one treatment.
LEVEL II TREATMENTS
[Peel consultation needed for all Level II treatments]
Lightening Lift Level II – 30 minutes
Boost the lightening effects of this peel with lactic & kojic acids, plus added retinol for the maximum treatment of even the most stubborn pigmentation. Your complexion will thank you!
Wrinkle Lift Level II – 30 minutes
This mega boost anti-aging blend of glycolic and retinol creates the ultimate resurfacing treatment for advanced types of aging skin. Feel the immediate tightening and rejuvenating effects of this peel while the regeneration of new cells increases collagen production to create younger, healthier, and wrinkle-free skin!
Advanced Acne Lift – 30 minutes
A pure beta-hydroxy acid treatment excellent for advanced cases of acne. This safe and exceptional resurfacing peel not only improves the look and feel of the skin, it will effectively reduce acne lesions, provide anti-bacterial & antiseptic benefits, and reduce the overproduction of oils in the skin. Noticeable results within 24 hours!
Micro Lift – 45 minutes
A dual-treatment process of microdermabrasion combined with a chemical resurfacing solution for a more advanced result on problematic skin
LEVEL III TREATMENTS
The IMAGE Perfection Lift – 45 minutes
This triple effect resurfacing treatment delivers the ultimate in the perfection of your skin! Advanced cases of aging, acne and pigmentation will soak up this revolutionary modernized Jessner's formula containing high doses of retinol, peptides, plant stem cells, & vitamin C leaving you with that desirable Hollywood glow!
TCA Orange Lift – 30 minutes approx
An Rx physician-only TCA, salicylic, & retinol peel that aggressively treats aging and sun-damaged skin. A revolutionary treatment that will rejuvenate skin in one treatment.
FACIAL TREATMENTS O2 Lift – 45 minutes / €70
A revolutionary facial treatment designed to exfoliate, illuminate and oxygenate all skin types. This luxurious treatment infuses oxygen, plant-derived stem cells, peptides and a high concentration of enzymatic botanicals into your skin. Papaya and pineapple enzymes exfoliate the surface while a cutting-edge effervescent masque oxygenates at a cellular level leaving it luminous, refreshed and rejuvenated.
Ormedic Facial – 45 minutes / €65
Restore the balance to your skin with this innovative facial combining the perfect marriage of organic ingredients with medical effectiveness. Even the most sensitive skin types will benefit tremendously from this soothing, yet highly effective organic cocktail of essential oils, botanical extracts and medical grade peptides to deliver the maximum restoration to tired, dull and lackluster skin
IMAGE Signature Facial – 45 minutes / €65
The facial that does it all, even the most experienced 'facial enthusiast' will be impressed! A cleansing and invigorating, vitamin infused treatment that will deliver tightening, lightening, brightening & nourishing hydration to leave you feeling fully refreshed and renewed. What more could one ask for?
Teen Acne Facial – 45 minutes / €60
This active clinical facial is designed to immediately treat all forms of acne. Salicylic Acid, enzymes, retinol & benzoyl peroxide synergistically work to effectively dissolve excess oils and superficial blemishes. You can expect clean, refreshed, healthy, beautiful oil-free skin in just one treatment.
The MAX Facial – 50 minutes / €65
This treatment strikes the ideal balance between peel perfection and facial therapy fulfillment. It is designed to truly target those stubborn wrinkles, elasticity concerns and general lethargic dull pallor skin issues. All experienced while cocooned in a luxurious enjoyable ambiance of luxury, using the latest technology stem cells to guarantee immediate and long lasting results.
Illuminating facial – 50 minutes / €65
A clinical facial designed to give that coveted luminosity radiance and glow. A rare blend of antioxidant protection, nutrition and enzymes all sandwiched together to provide immediate measurable differences for the discerning client. Ideal as a quick fix pre-event facial or as an incentive to commence the skin health journey
Repechange
Hot Stone Sea Escape Facial – 100 mins / €100
A holistic, anti-ageing, stress relieving facial, including body therapy. Natural hot and cold sea stones are combined with one Repechage signature Four Layer Facial Treatment and pressure points reflexology and lymphatic drainage techniques are used with massage and seaweed-based products to provide total mind and body balance. Seventh Heaven has produced this exclusive facial offering you a sensational experience.
Vita Cura Facial – 60 mins / €95
Our premier anti-ageing treatment. A rich enzymatic exfoliant and marine based serum is applied to cleansed skin followed by a deep relaxing massage and cooling seaweed masque. The results are impressive – a glow that lasts.
Four Layer Facial – 60 mins / €70
One fabulous anti-ageing treatment, which Cosmopolitan UK called "the best facial of the century". Experience layer upon layer of pure, fresh European seaweed to rejuvenate, tone and help firm the skin, while our therapist introduces a soothing massages to help you unwind and distress. Finally we finish with a cooling marine masque and warming mineral rich masque. Younger looking skin with visibly renewed moisture.
Four Layer facial with deep pore cleansing – 80 mins / €80
This facial has all the benefits of the world famous Four Layer Facial, with additional European deep pore cleansing and exfoliation to rid the skin of blackheads. This anti-ageing treatment will leave your skin clear and refreshed.
Seaweed Facial – 60 mins / €65
Fresh European seaweed rejuvenates, tones and helps firm the skin.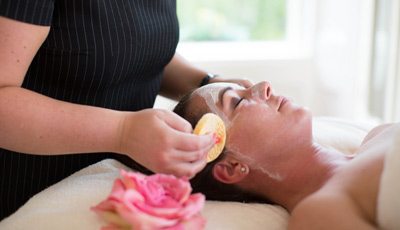 Dermalogica
Dermalogica skin care is a simple, serious and unique skin care system that delivers effective results in the minimum amount of time. For years Dermalogica formulas have pioneered new standards for products performance, using only the finest ingredients.
Exclusive Facial – 90 Mins / €90
A relaxing back massage to reduce stress and muscle tension is a perfect start to this facial. A deep cleanse followed by a customised exfoliation leaves the skin polished and glowing. Extractions remove any congestion, the aromatherapy pressure point massage that follows will stimulate blood circulation and revitalise the tissues while your hands experience a soothing massage treatment. Finally we select an appropriate facial mask to restore the natural balance of your skin.
Power Regeneration Treatment – 75 mins / €75
Ideal for prematurely-ageing, dry, sun-damaged and ageing skin that needs nourishment, regeneration and energising. Your skin will be noticeably firmer, smoother and revised.
Prescriptive Treatment – 60 mins / €65
This revitalising treatment begins with a deep cleansing, followed by a gentle customised exfoliation to reveal a smooth glowing complexion. The skin is then gently warmed to allow easy removal of any built up congestion. A Face, Neck & Shoulder massage using Aromatherapy is certain to ease your mind and spirit. Whilst the revitalising mask takes effect enjoy a soothing massage to the hands or feet. Finish with a nutrient rich moisturiser to hydrate, protect and help restore the natural balance of your skin.
MedicBac Clearing Treatment – 60 mins/  €65
The ultimate in acne management. We target current blemishes while helping to prevent future breakout activity. This medicated clearing treatment focuses on purifying your skin with deep cleansing, followed by extractions.
Environmental Control Treatment – 60 mins / €65
Is your Skin looking red, inflamed or feeling itchy? This super-soothing treatment incorporate a microfoliant and pure oatmeal masque to calm redness and reduce inflammation.
Express Facial – 40 mins /€45
Leave your cares behind as we begin this treatment with a power cleanse, designed to restore your skins healthy radiance. Extractions remove any congestion while the Aromatherapy pressure point massage that follows will stimulate blood circulation and revitalise the tissue. Designed as a facial between facials.
Clear Start for Teenage Skin facial (12yrs – 20yrs) – 30mins / €35
This facial is especially designed for Teen Skin, the clear start teen facial is perfect for starting teen skin on a healthy clear skin regime. Includes, deep cleansing, exfoliation scrub, steam to loosen blockages from pores, extractions, followed by a calming masque. Education on skin care is given during this treatment.
Revitalising Eye Treatment – 20 mins /€30
A unique blend of firming botanicals and vitamin therapies. Designed to firm and tone the eye area, this treatment is designed to diminish fine lines, reduce puffiness and soothe tired, irritated eyes. Our extra gentle exfoliation will remove dulling debris while the super soothing masque will hydrate the delicate area.
Crystal Clear
Instantly beautiful rejuvenated skin can be yours with Crystal Clear. A string of celebrity fans, has generated significant public awareness and media coverage of the Crystal Clear treatments. The treatment and product range has reinforced its position as "the celebrities" favourite treatment.
Crystal Clear Microdermabrasion – 60 mins / €85
The treatment allows you to treat lines, wrinkles, dull dehydrated skin, sun damaged skin, skin laxity, acne scaring congested and acne prone skin. Using a controlled method of skin resurfacing by gently exfoliating the outer layers of skin, while increasing new collagen and elastin formation to visibly rejuvenate and firm the skin of the face, neck & body. Results are visible immediately. However, a course of treatments is often recommended to achieve maximum effects.
Oxygen Treatment – 60 mins / €90
As we age oxygen levels in the skin cells decrease, resulting in a loss of elasticity and the formation of lines and wrinkles. Oxygen Therapy replenishes lost oxygen, and the active ingredients in the serum restructure the skin from the inside out. Visibly plumping lines and wrinkles while firming the skin around the eyes, face and neck.
Rejuvenates the skin from the inside out
Plumps out lines and wrinkles
Perfect for sun damaged aged and acne prone skin
Stimulates collagen production at a cellular level to rejuvenate the skin
Reverses the damage cause by free radicals
 The best of both worlds together
Microdermabrasion & Oxygen – 70mins / €120
For that extra special treat, why not combine both treatments to give you maximum results. This is the crème de la crème of skin treatments.
Perfector Non-Surgical
Forever Young Perfector Non-Surgical 50 mins (1 treatment) / €60
This micro current therapy offers the first real alternative to cosmetic surgery, dubbed by the press "The Knifeless Facelift". The client will receive first class results with every treatment. Special vitamin enriched conductive gels containing healing and moisturising ingredients used during the treatment also enhances the results. Recommended for any skin that needs a lift! Perfector can benefit any skin as it smoothes and tightens, leaving a more refined, glowing complexion by also using special serums.
However a course of 10 is recommended and this course is €500
Gold Facial
Gold Facial – 60mins / €70
As we reconnect with history, Cleopatra used a gold mask, to keep her skin youthful, glowing and beautiful.
Skin care with the Gold Facial can slow down the depletion of collagen level in your skin cells & restore the elasticity of the tissue. This would further prevent the skin from sagging. Gold increases the elasticity of the skin, thus makes it firm and toned.
As an added benefit of this treatment, you can take home your gold mask to re-use for a few nights.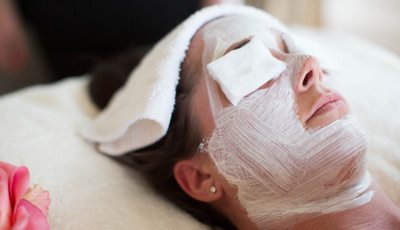 Collagen Facial
Collagen Facial – 60 mins / €60
This is a beauty treatment that uses collagen and protein to re-vitalise your skin. Collagen facial attempts to recharge the ageing process by replenishing the skins natural protein by external application.
GlamGlow Facials
GlamGlow Facials – 60 mins / €60
Elle US hail it as the Number 1 Beauty Obsession, Denzel Washington calls it, his new best friend, Natalie Portman, Jennifer Anniston & The cast of 24, are thrilled to have found it….. So what is so great about this facial…….
Provides a 3 day glow thanks to collagen synthesis
Skin is soft and smooth
Multi-level resurfacing exfoliation
Helps tightens skin and minimise pores
Absorbs impurities without stripping natural oils
Helps protect against free radical damage
Or try our taster package in GlamGlow for €30.
Specialised Treatments
Botox/Fillers – performed by a doctor – prices on request.
The most advanced treatments, the most effective ingredients and the most luxurious products